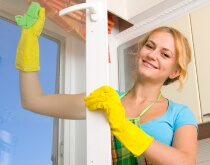 A lot of people think that hiring a domestic cleaner is a luxury that only rich people can afford, but nowadays, having some help at home is a necessity. This is why more and more companies like us have started to appear and offer professional cleaning services at reasonable prices. People are overwhelmed with different jobs and tasks and they don't have time for everything.
We are expected to be friends, loving relatives, productive employees and excellent homeowners, but you can't keep up with all this. Cleaners Uxbridge offers professional leaning services at affordable prices and we will gladly take on all of your cleaning tasks and household chores.
Our workers are trained, insured and vetted and we are absolutely sure in their capabilities, reliability and trustworthiness. We won't send them on any assignments before we have had the opportunity to check their references and learn more about their personality. We assure you that our workers are trustworthy and will complete their assignments in a professional and responsible manner. You don't have to worry about having them in your house.
If you are still not sure about hiring one of our professional cleaners, you can ask for a face-to-face interview which will give you the unique opportunity to have a chat and learn more about them. We will assign a cleaner to your house and he will visit you in an appropriate time every week or every other week. However, once the arrangement is made, you cannot change or reschedule it.
Many companies require you to sign long term contracts, but we aren't one of them and you can request as many visits as you want. As we said, the cleaner will always be the same, but if for any reason he is absent, we will send a replacement.
In most cases our clients provide the cleaner with all the products & equipment he needs, but if you insist we will bring our special cleaning products which are the most effective on the market. We also offer one off cleaning services that keep up with the highest cleaning standards.